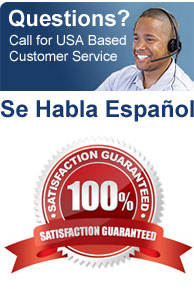 Easy Warranty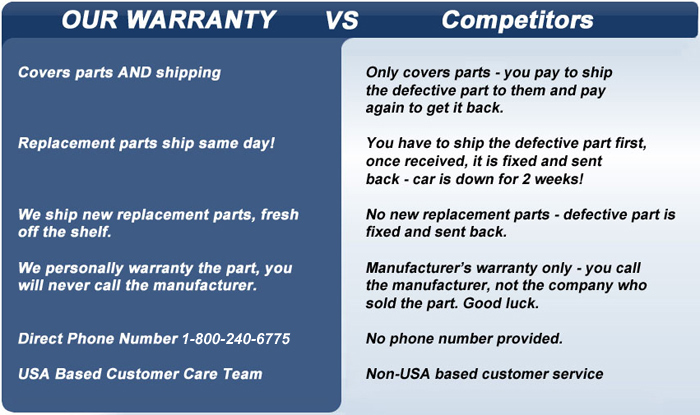 BAP Performance offers the best warranty service in the industry. Warranty details can be found below, but the most important thing to remember is that we are always here for you. If you need warranty assistance, or have any questions, please do not hesitate to contact us.
BAP Performance offers a minimum one year, unlimited mileage warranty on all parts sold unless otherwise noted. In many cases, a longer manufacturer's warranty is included for free. If you would like to purchase an extended warranty, please contact us.
We only offer the highest quality parts and accessories available, but in some rare cases there are manufacturer's defects. If you have a defective item under warranty, we offer options to make the warranty service easier for you. In most cases you have the following options for warranty service: 1) You may return the warranty item to us for a replacement. Once we receive the defective item, we will ship you your replacement. 2) You may pay a deposit and have a replacement item sent in advance. Then you may return the warranty item to us and your deposit will be refunded. In either case, we pay for shipping within the continental USA. Please compare our warranty to any other auto parts vendor, and it will be clear that we offer the highest level of service.
We warranty all items to be free from defects in material and workmanship for the period specified on your invoice. Your warranty period begins from the date purchased. This warranty applies to automotive parts only when the installation instructions are followed in their entirety. If instructions are not available, the work should be performed by a licensed mechanic.
This warranty does not cover any expenses incurred in the removal and/or reinstallation of the item. Specifically, this warranty does not cover any expenses for time, rental, or other parts not purchased from us, or any labor. This warranty covers fixing or replacing the item purchased from us only. This warranty is offered only to the original purchaser of the item, and is non-transferrable. This warranty does not apply, and will be voided, if the item sold has been damaged by abuse, misuse, accident, neglect, or alteration, or if it has been repaired by anyone other than us. Your warranty will be null and void if the item fails due to improper installation or use. If the item sold should prove defective in material or workmanship within the warranty period, please contact us immediately.
The expressed warranty set forth above is exclusive and no other warranties of any kind, whether statutory, oral, written, expressed or implied, including any implied warranties of Merchantability or fitness for a particular purpose shall apply. There are no Warranties which extend beyond the description on the face hereof. The consumers exclusive remedies for breach of warranty and our only obligation arising out of or in connection with breach of warranty shall be those stated herein. We expressly disclaim liability for incidental and consequential damages caused by the item sold.